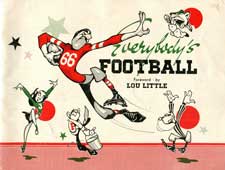 Mush Dubovsky also could write. In 1947, he wrote a sports book titled "Everybody's Football", which explained football strategy with a layman's approach.
History & Tradition: Mush Dubovsky (C'1932)
A Georgetown original.
Forty years after he arrived at the Hilltop from Weaver H.S. in Hartford, CT, Maurice (Mush) Dubofsky became head coach of the Hoyas during the 1968 season. Considered one of the best line coaches in America in a 16 year run as an assistant to Jack Hagerty, Dubofsky moved to the high school ranks upon Hagerty's reassignment to athletic director in 1948, coaching St. John's to six Washington city titles in 11 years and a a title at Pittsburgh South Hills HS before rejoining the Hoyas. The 1968 media guide published a lengthy interview with Dubofsky, portions excerpted below.
---
How does it feel to be back at the Hilltop? Do you think that it has changed very much?
Dubofsky: There is no doubt about it. It has changed physically and the student body seems to have changed a great deal also.

After a championship last year in Pittsburgh what made you decide to accept the head coaching position at Georgetown?
Dubofsky: I used to go up there just for the football season. I have always lived here in Washington. Well this year they wanted a full time teacher and coach, and I didn't want to spend nine months in Pittsburgh.

Having had so many triumphs in your career as both a player and a coach, which moments do you feel were the most exciting?
Dubofsky: The most excitement comes as a result of football and not really from any particular game. Many times you see, particularly in high school, how football can change a boy. In reality you get more kick out of this than almost anything. It gives you a great deal of gratification. Besides this it would be hard to say which moments were the most exciting. There have been a lot of tight ball games, and I remember one in particular. I believe it was 1937. We beat Temple 3 to 2 in the last 20 seconds. Those were the days when there weren't very many ball games won in the last few seconds like that. This game started the three year period when we only lost once.

How about the Orange Bowl game? Dubofsky: Well, the Orange Bowl, unfortunately, was a loss. It's nice to be in one of those games; but it was a loss, and you never get much of a thrill out of a loss. Actually I'm not in favor of bowl games, and I never have been. I think it might be too much for the boys.

What are some of the other major differences between college football when you played and as it is now played?
Dubofsky: One major difference is in the defense. When I was playing ball we had stable defenses. There was no red-dogging, or slanting that they have now. Offensively there are a lot more passes being thrown. But there is one thing that has not changed, and that is the basic fundamentals. Football will always be football, no matter how far back you go, if you stay with the fundamentals. Certain things are done a little more elaborately but basically they have always remained the same.

The type of football that we play here at Georgetown has been belittled by some on campus as an inadequate substitute for intercollegiate football. Would you like to comment on this?
Dubofsky: When people go to a game they only see what they want to see...if you see a close game in the pros then you think it was a great ball game. But go to a club football game, where you don't expect to see good football and you won't see it even if it is there. I've seen high school and college games just as exciting as the pros, granted the execution was not as good, but the game was just as exciting. I saw a good tight ball game here last year when Georgetown played Fordham.

What major differences do you see between football as it is played at Georgetown and big time college football?
Dubofsky: The big teams recruit and thus end up with better players. They also donate more time to the sport. Like I said before, this does not mean that their games will be necessarily more exciting. The important thing is that the two teams are on a par.

How do you feel about the possibility of Georgetown returning to big time college football?
Dubofsky: That I can't answer. It all depends on what the school authorities want to do.

How would you feel about such a move?
Dubofsky: Remember, I'm biased. I personally would like to see it. I think that anyone who has ever played football would like to see it. I have a letter in my car right now from a man who played football here several years ago. He wished us luck for the season. I think that all the alumni would like to see big football back at Georgetown. Every Sunday morning an alumnus reads the paper to see how his school did. At least it keeps them in touch.

Do you feel that big time college football can be supported in the Washington area?
Dubofsky: I will be just as honest as I was before. I have never thought that Washington was a real sports town. The only exception is with the Redskins.

As both a player and a coach you have had a winning tradition. Would you tell us your philosophy of football?
Dubofsky: My philosophy of football is based on fundamentals. A team that is proficient at the fundamentals of the game has got to get better all the time. Unfortunately, I don't think that a lot of coaches put proper emphasis here.

There has been a lot of comment both on campus and in the press about how tough you are as a coach. Would you comment on this?
Dubofsky: Sure I'm tough but only in the spots where you have to be tough. I give my players all the breaks that I can. But you get a reputation and its hard to dissolve it...Some of the things we do are tough. We run up that hill ten times. That's a hell of a thing but we rest afterwards. If you want to be namby pamby about it, I could go out there and say 'OK boys, let's play touch football.' We could play all day long, but what good would that do on Saturday? I think a boy is foolish if he doesn't want any pressure at all on himself. It is no fun practicing football, this is for sure. It's repetitious, and it is just not what you would like to do, but this is the only way to be a football player. Each year that I coach I find this out more and more.
---
Dubofsky coached for just two seasons until his untimely death in 1970. Scotty Glacken, who played under Dubofsky at St. John's and served as a Georgetown assistant for two seasons, succeeded him in the fall of 1970.