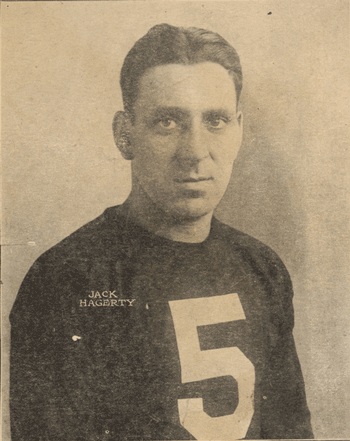 On Nov. 5, 1929, Jack Hagerty returned a kickoff 97 yards for the New York Giants. Only one Giants player since has returned a kick for more yards: pro football Hall of Famer Emlen Tunnell, in 1951.
History & Tradition: Jack Hagerty (F'1926)
A lifetime of service to Georgetown.
During a span from 1922 until his death in 1982, John L. (Jack) Hagerty was a truly memorable figure in Georgetown's history. An All-East halfback as an undergraduate, 16 years as head coach and 20 years more as athletic director, Hagerty's was a life of spirit and service, the title of a 1966 retrospective on the coach by former sports information director Dick Williams (C'65) as seen in the pages of The HOYA on May 12, 1966.

Hagerty avoided most interviews, a sign of humility rather than any disdain for the press. Williams' article, excerpted below, provides a unique glimpse into the figure most responsible for Georgetown's second golden age of football from 1933 through 1948.
---
"Hagerty came to Georgetown's School of Foreign Service in 1922. He weighed about 150 pounds and even now looks only about two weeks away from playing shape.

He broke in with the Hoyas in a big way as a sophomore, returning an intercepted pass 88 yards for a score against Georgia Tech, returning a punt 45 yards against Fordham and dizzying Bucknell with a 65-yard punt return and a 45-yard sweep.

Jack Hagerty was the premier scatback of his day and he teamed "early with [George] Murtagh, who handled every line position, and Tony Plansky, who competed in the Olympic decathlon.

In their junior season Lou Little took over as coach of the Hoyas and by the time he had established his system, Hagerty was his captain and the Hoyas rolled to a 7-1 record. On the baseball field it was the same story. Up the middle for the Hoyas were George Murtagh, the catcher, and fleet Jack Hagerty in center field.

"Those were tough days for Jack," his old friend and classmate, Joe Burke, said last week. "Jack practiced under Coach Little every afternoon, sometimes using car headlights after dark on the field where Copley Hall now stands. After practice, he had classes every night downtown at the Foreign Service school. All classes were at night."

Hagerty wound up his career generally adjudged as one of Georgetown's three or four greatest football heroes. Some say only Jack Flavin and Harry Costello rivaled him. He spent most of the second semester of his senior year in the Georgetown hospital with a spine ailment, but by September, 1926, was ready to join the football New York Giants and Steve Owen "for peanuts."

Playing through the 1930 season, Hagerty led the league in punt returns. He never achieved the success his teammate at Georgetown and with the Giants, that his teammate Murtagh did, but after one run against the Philadelphia Yellow Jackets, Horace Stoneham, Sr., club owner, told him he had made the greatest jaunt ever in the Polo Grounds. Hagerty passed the 1931 season as backfield coach at Holy Cross, while Murtagh capped a career which saw him nominated two years ago for the Professional Football Hall of Fame at Canton, Ohio.

Meanwhile, Lou Little had been lured away from Georgetown by Columbia for a price rumored to be about $18,000. It was the Great Depression for everyone but Luigi Piccolo. His successor, Tommy Mills, quit in mid season in 1932 and Hagerty came home to Georgetown...The greatest era in Georgetown sports was to begin.

"Jack Hagerty is a gentleman's gentleman," Joe Burke says. "If he had been more aggressive he could have been anything he wanted to be. As it was his greatest assets as a coach were to command the respect of his players and his creative ability. Jack was quiet and easy-going and did the thinking. Mush did all the bellowing and Murtagh solved all the defensive problems and kept the players alive with his quick, dry wit."

Football fans everywhere know what happened from 1938 to 1940. The record was 8-0, 7-0 with a tie, and 8-2. The great teams of Joe Mellendick, Jules Koshlap, Al Blozis, Augie Lio, Angelo Paternoster, Earl Fullilove, Al Lujack, Jim Castiglia and Al Matuza, won 23 straight before losing 19-18 to Boston College in a game Grantland Rice called "an American foot-ball classic." Rice's account of the game was a classic itself: "In many ways it was probably the greatest football game ever played by colleges or by pros...every type of play that football has ever seen...the greatest of all around exhibition of power, skill, deception and flaming spirit that I have seen on a football field for over 40 years... when you look back over the dizzy panorama of this cold grey afternoon, it was something more than the battle of the mastodon and the mammoth...they hit, and bones had to either bend or break."

The 14-7 Orange Bowl loss to Mississippi State was almost anti-climactic but Hagerty earned the accolades when Rice wrote that as a coach, "Jack Hagerty of Georgetown belongs high up on this list among the very best that football knows..."

Hagerty tells of that team quietly. He said Blozis never really became the football player they wanted him to be because he was a science major and could only practice two days a week. He missed [all of] spring practice because of labs.

Earl Fullilove, the savage lineman, Hagerty says, was something else. He was recruited out of Bessemer, Ala., by an alumnus. Hagerty had never seen him before when he went to the main gate of the University to meet him. There, he was confronted by a huge boy with a full-face beard. "I took one look," Hagerty recalls, "and told him he couldn't come onto campus until he shaved and I gave him 12 hours."

World War II, for all intents and purposes, closed Hagerty's career. "Before then," Hagerty said, "the school was smaller. You knew everybody else. After the wars it was enlarged with the G.I bill and boys were taking from the school without trying to give anything in return."

The football teams under Hagerty [after World War II] still played .500 ball but the alumni wanted more.

"One time at an alumni meeting the men were yelling for 60 scholarships a year," Hagerty said. "I told them you're going to kill the golden goose. We gave 20 grants a year then."

Hagerty had many other coaching offers, The best, he said, was to coach the Detroit Lions. Mush Dubofsky screamed for him to take it, Hagerty said, but he said he was happy with the Hoyas. In 1948, in a move agreeable to everyone concerned, Hagerty, Murtagh and Dubofsky stepped aside and began new careers...football on a big-time basis went by the boards two years later. But it was a lot [later] than Frank Leahy suspected in 1931. Without those Hagerty years, Georgetown probably wouldn't be what it is today...

"I had proposed a league three years ago and thought it would be the salvation. I didn't want a Catholic league but one of Fordham, Boston College, Holy Cross, Pittsburgh, Penn State, Temple, Colgate, and Georgetown."

As to the future of big time football, Hagerty maintains that there will only be about 50 schools left in a few years, He says the game will be played only by the big state schools and those with large endowments. "The rest," Hagerty says, "will come back to the low budget, non scholarship formula the students are trying to get at Georgetown. Football should be considered a student activity like a newspaper or yearbook..."

Last week, Hagerty was busy trying to find a place for the swimming team to practice next year at a sane hour. He told an interviewer he was not optimistic about the future of baseball, swimming, or lacrosse at the Hilltop but had high hopes of a good low budget football program being established."
---
Read the entire article on page 17 at this link.