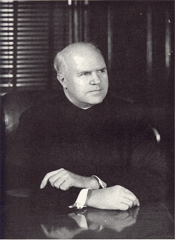 J. Hunter Guthrie, S.J. (1902-1974)
History & Tradition: J. Hunter Guthrie, S.J.
Georgetown Univesity President, 1949-1952
In a span of just over three years from 1949 to 1952, J. Hunter Guthrie, S.J. served the shortest tenure of any President of the University in the last 100 years. An acknowledged scholar in philosophy, Guthrie will instead be forever linked with Georgetown athletics--the man who ended major college football at the University.
Guthrie was just 47 when he was named president, after five years as the regent (dean) of the Graduate School. He took over a post-war University that had nearly doubled in size since the end of World War II. Initial attempts at fundraising to meet this growth had fallen short of bringing in revenues expected.
Georgetown continued to see deficits within numerous academic and extracurricular departments, including athletics. Football was a regular problem, as revenue was entirely based on that year's walk-up ticket sales at Griffith Stadium. The 1950 season aroused Guthrie's ire, because the $140,000 budget allocated to football (including 81 scholarships) returned just $44,123.97 in tickets, with attendance down a third from its Sun Bowl season the year before.
Guthrie moved to drop football at the Board of Directors' March 1951 meeting, citing "an uncertain outlook for student enrollment". The sudden announcement made national headlines. Alumni sent letters of opposition, but a stubborn Guthrie would have none of it. His response, in a Saturday Evening Post column famously titled "No More Football For Us!" distanced many alumni from the school and signaled the beginning of two decades of athletic deemphasis at the Hilltop. (Read more about the article here.)
In cutting football, Guthrie may have been less concerned about sports and more interested in the bottom line. Guthrie took heed of a consultant's report by Tulane University comptroller Clarence Scheps which read, in part, "Every sign points to a very difficult period ahead in college administration. Institutions of higher learning are going to be in grave financial difficulties especially those like Georgetown University which are dependent almost entirely on tuition from students for their support. The values which Georgetown University has bestowed upon the culture and education of our country must not be permitted to be lessened or endangered by a loose and inefficient fiscal system."
---
But there is also a body of opinion that suggests Guthrie's major decisions during this period, including football, were part of a larger battle within the University itself. Washington attorney and Delta Phi Epsilon historian Terrence Boyle (F'1963) contends that Guthrie's decisions were a larger attempt to centralize his control over University spending. Boyle noted that the School of Foreign Service, under the administration of regent Rev. Edmund Walsh, S.J., existed autonomously from the main campus, and had developed its own operating budget and fundraising efforts, of no small irritation to Guthrie while he served as dean of the Graduate School.
Boyle's web site makes two interesting claims:
The McDonough Gym project, proposed as an annex to Ryan Gymnasium (the current Davis Arts Center) as late as 1949, was moved to the site of a future SFS building. "Fr. Walsh had for years planned on building his new School of Foreign Service...on the hill overlooking the Potomac where McDonough Gymnasium now stands," writes Boyle. "Then one day during the summer of 1950 Jit Treanor, the Secretary of the School, came running up to Fr. Walsh calling out that his hill was being dug out. Indeed, the entire hill was cut away and ground broke for the Gymnasium without Fr. Walsh's having known beforehand."
Boyle also maintains that the rector-president forced Walsh to turn over $1.3 million in development funds raised by Walsh to Guthrie's control. This was referenced by Rev. Gerard Yates, S.J. to The HOYA, writing in its March 20, 1969 issue. "The accumulated surplus," said Yates, "did not represent, in the eyes of a qualified expert, a true surplus, and the [SFS] was not paying its share of common University expenses."
---
At the close the spring 1952 semester, the 50 year old Guthrie left Washington for what was variously termed as a vacation or a leave of absence. Rev. Yates recalled it as "a break in his health, triggered perhaps by opposition to certain changes." Boyle's web site is less forgiving, inferring Guthrie "had absconded to Florida in a fit of concupiscence." Whatever the cause, the absence continued through June, July, and August. By early September, Georgetown opened the fall semester without its president on the campus and word got back to Jesuit officials in Rome.
Five weeks into the 1952-53 academic year, and for reasons never publicly disclosed, Guthrie had still not returned. Perhaps seeking to avoid speculation about the whereabouts of an absentee president, a letter delivered on Oct. 9, 1952 from the Jesuit Superior General summarily appointed former Loyola College president Edward Bunn, S.J. as president, effective immediately and without comment. Without fanfare, Hunter Guthrie's tenure at Georgetown was over.
Public reaction was nonexistent. The local papers noted Bunn's arrival and nothing further. The Ye Domesday Booke yearbook made no mention of Rev. Guthrie or the circumstances his departure in its 1952-1953 edition. The only reference is an uncredited picture of the former president, in full Roman cassock and biretta, sitting at an intramural football game, with the caption: "One of the sport's more ardent fans gets a better view from the bench."
Guthrie was quietly reassigned to St. Joseph's University and made no public statement on the matter. He held no executive duties during a 20 year tenure in Philadelphia, serving as an editor for books on philosophy and Jesuit theology. According to The HOYA's archives, Guthrie made only two visits to Georgetown in the intervening years, a 1962 philosophy lecture at Gaston Hall and a 1970 appearance at the dedication of the Lauinger Library. Neither visit brought up the circumstances of his mysterious and abrupt departure from the president's office.
Hunter Guthrie, S.J. died in 1974 and was buried at the Jesuit cemetery on Georgetown's campus. The cemetery, adjacent to Multi-Sport Field on its west (the modern home of Georgetown football) and the Intercultural Center to its north (the modern home of the School of Foreign Service), is a juxtaposition of two issues that intersected a brief but impactful tenure at Georgetown.