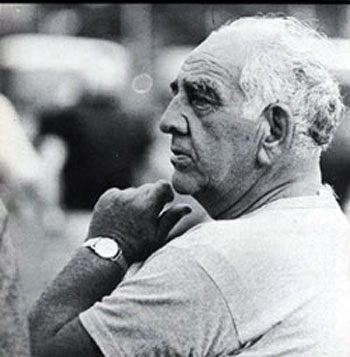 Three fornmer coaches were named to the team as players, including Mush Dubovsky (C'1932).
History & Tradition: The All-Time Team
The 1940 Alumni Poll
In 1940, the Georgetown University Alumni Association commissioned a poll of its members to name an all-time team for the first 60 years of the sport at Georgetown.

The results are posted below; while no such survey has been attempted since (and the knowledge of alumni towards contemporary football remains limited), the 1940 poll reflects a proud tradition in the sport at that time, one which remains valuable in the intervening years. Not surprisingly, each of the first and second teamers were eventually elected to the Georgetown Athletic Hall of Fame.
(Note there are only 11 men per team--this was the era of single platoon football and so the 11 on offense were the same 11 on defense.)
FIRST TEAM
Left End: Paul Florence (1921-1923)
Left Tackle: Jim Mooney (1926-1929)
Left Guard: Babe Connaughton (1924-1926)
Center: Claude Grigsby (1925-1927)
Right Guard: Sam Cordovano (1927-1929)
Right Tackle: Rudy Comstock (1919-1922)
Right End: Frank McGrath (1925-1926)
Quarterback: Harry Costello (1910-1913)
Left Halfback: Jack Hagerty (1923-1925)
Right Halfback: Johnny Gilroy (1915-1917)
Fullback: Jack Flavin (1918-1922)
SECOND TEAM
Left End: Reds Cusack (1913-1916)
Left Tackle: Tom (Ooch) Moriarity (1911-1913)
Left Guard: George Murtagh (1923-1925)
Center: Percy Given (1901-1904)
Right Guard: Mush Dubofsky (1929-1931)
Right Tackle: Dan O'Connor (1915-1916)
Right End: Ken Provincial (1927-1929)
Quarterback: Bob Gormley (1924-1926)
Left Halfback: Joe Mellendick (1937-1938)
Right Halfback: Jackie Maloney (1915-1917; 1919)
Fullback: Tony Plansky (1922-1924)
HONORABLE MENTION
Ends: Carl Waite (1924-1926)
Tackles: Otto Saur (1926-1927), Clem Stralka (1935-1937), Wayne Hart (1911)
Guards: Augie Lio (1938-1940), Jerry Carroll (1926-1928)
Center: Johnny Petritz (1911-1914)
Backs: Bill Kenyon (1919-1922), Leon Martel (1903-1904), Steve Barabas (1926-1929)
Fullback: Johnny McQuade (1916-1919; 1921)